Basketball is not a contact sport, but the reality of the situation is that basketball is the most dangerous sport with the highest rate of dental injury, because of complete lack of protection for basketball players on the court. 
A 2007 study was published in the Journal of the American Dental Association found that basketball had the highest number of dental injuries among all sports.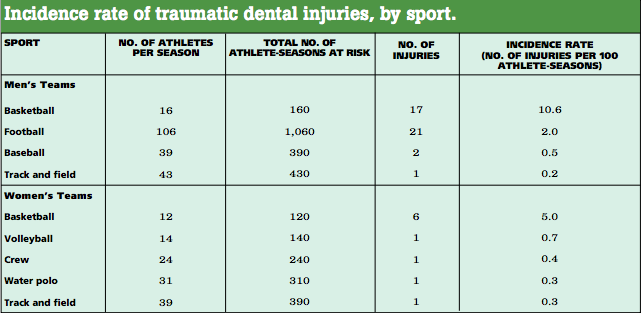 According to an article in the New York Times, league commissioner, David Stern, noticed a trend and warned players to protect themselves "in the event of 'inadvertent' elbows."
"Wearing a mouth guard gives you that sense of security, that you have this edge over someone else. You can take a hit but they don't have that same protection," said college basketball player, Blair Orr, who recalled seeing two fellow athletics lose teeth during this season. Blair has been wearing a mouthguard during his entire basketball career, unlike most of his teammates. 
Despite the risk of flying elbows, many basketball players don't feel the need to wear a mouth guard since it's not compulsory. Players don't want to wear an uncomfortable device that will hinder their ability to communicate and breathe during the game. 
Chewing on your mouthguard does your teeth as much good as not wearing one at all. According to the American Dental Association, a mouthguard should fit snug on your teeth, should not inhibit breathing and should stay in your mouth the entire game or practice. 
High schools are starting to make mouthguards mandatory for their teams. With over $500 million spent each year  replacing teeth, it's a lot easier (and cheaper) to invest in prevention of dental injuries. With more awareness and coach/parent involvement, we hope that there is change for the better in mouthguard rules in basketball.